Deloitte Digital - Where Tech Meets Story
Monday 18 June 2018 2:00 PM Wednesday 20 June 2018 1:30 PM
Save
Saved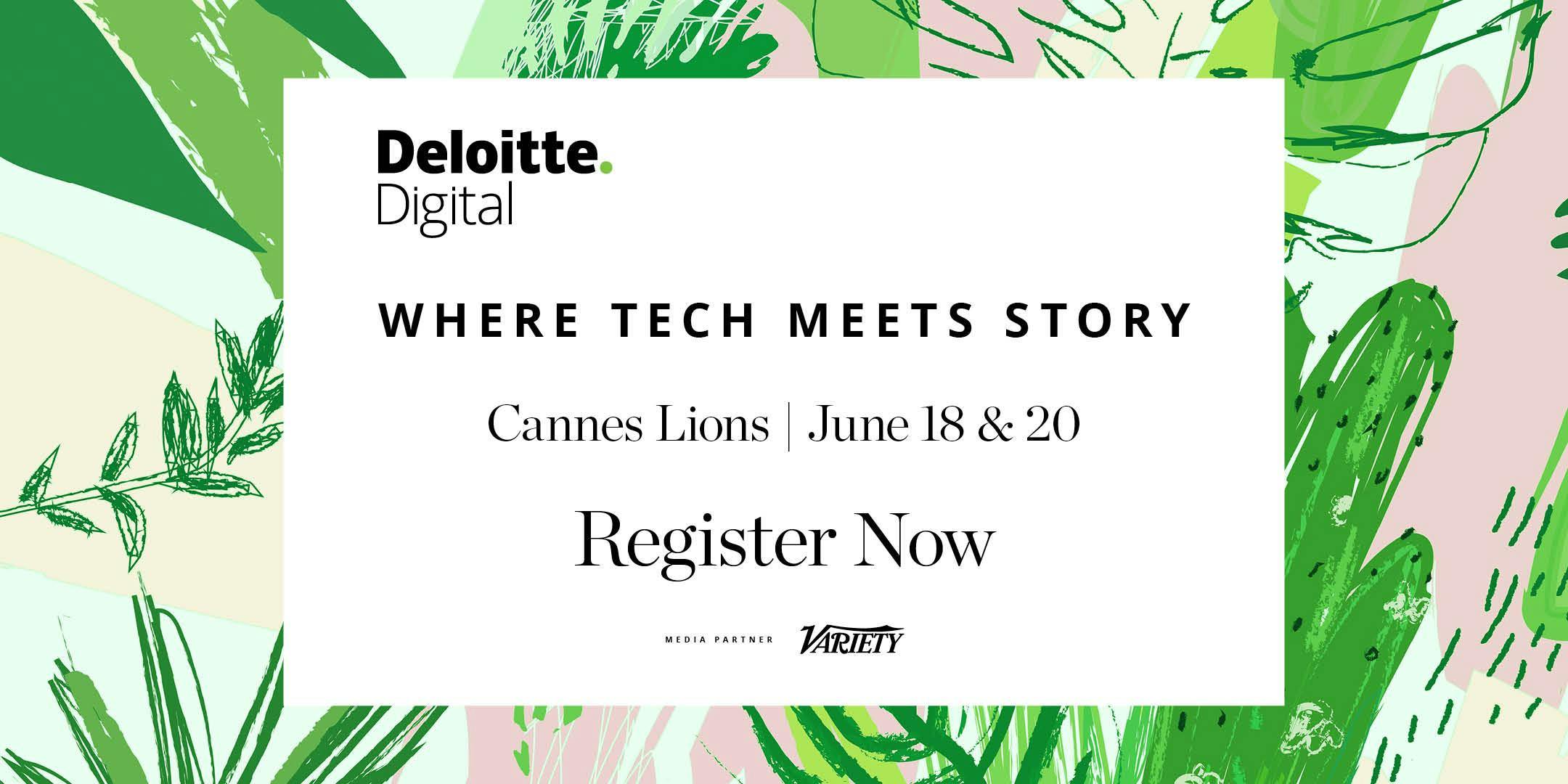 Last update 21/06/2018
1167
Join us for a celebration of innovation in marketing and advertising at Cannes Lions, where we will dive deeper into conversations that bring Sony's Innovation Studios partners together for the first time, explore the future of content creation and storytelling, and discuss the advancement of women in our marketplace.
For registration questions please contact abullard@variety.com 
AGENDA
MONDAY JUNE 18TH 2018
Where Technology Meets Story
2:00pm to 2:45pm
A celebration of Innovation and Creativity in Marketing and Advertising; Innovation Studios partners discuss harnessing technology and applying it to production to give content creators essential tools to tell real-world stories in radically new ways. The future of content creation is hinged on the monetization of digitizing the analog world, and Innovation Studios is excited to be a part of it.
Moderator:
Todd Spangler, Editor, Variety 
Speakers:
Glenn Gainor, President, Sony Innovation Studio and President, Screen Gems Physical Production
Alyson Griffin, Head of Global Brand Marketing, Intel
Allan Cook, Deloitte Digital Reality Business Leader
ANA Greenhouse Experience: The Future of Content Creation, Distribution and Engagement
3:30pm to 5:00pm
Explore the  future of content creation, distribution, and engagement through an interactive conversation and gallery walk of provocations, including data, stories, and illustrations. Participate in a discussion of how to combine and harness these trends to support specific strategic intents around engagement specifically
Workshop facilitated by Deloitte Digital
WEDNESDAY JUNE 20TH 2018
The Future of Storytelling
11:00am to 12:00pm
Transforming a generic project or product into a beloved brand is the end game for any marketer, and augmented, mixed and virtual reality are finding a home in every aspect of our lives as today's consumers seek out more immersive and engaging content. But how will these technologies shape the future?  And what are brands doing today with immersive content?  Industry and technology partners, a studio executive and brand marketer share their storytelling secrets and latest collaborations.
Moderator:
Todd Spangler, Editor, Variety 
Speakers:
Eric Berger, Chief Digital Officer, Sony Pictures Television Networks and GM, Sony Crackle
Kevin Westcott, US Media & Entertainment Practice Leader, Deloitte
Tony Parisi, Global Head of VR/AR Brand Solutions, Unity Technologies
Gender Parity: Accelerating the Advancement of Women in the Workplace
12:30 p.m. to 1:30 p.m.
Executive leaders will explore ways in which their industries should move forward to achieve true equality at the top decision-making levels. Can gender parity make great business sense - boosting corporate morale and engagement with customers? What are challenges and the opportunities in fighting for a balanced workplace?
Moderator:
Robin Tarufelli, Managing Director, Media and Entertainment, Deloitte
Speakers:
Brooke Turpin, VP Global Consumer & Stategic Partnerships, Variety 
Gayle Fuguitt, Chief of Customer Insights and Innovation, Foursquare
culture
business
workshop
Nearby hotels and apartments
Hotel Barrière Le Majestic Cannes, Salon Dinard, Cannes, 6400, France
Hotel Barrière Le Majestic Cannes, Salon Dinard, Cannes, 6400, France